NETZVERB Dictionary App
Learning German
comprehensive and specific
The app Dictionary by Netzverb is an encompassing and user-friendly tool for handling the German language. With more than 160,000 German words, it not only includes an extremely comprehensive collection of words, but also offers a wide range of functions and information to learn German, better understand the systematic nature of the language, or improve the German language level.
The app contains inflection tables for all word forms, of which the various conjugations and declensions can be drawn from. In order to train grammar, individual learning progress can be tracked, additionally. Therefore, the words are divided into different levels of difficulty, which correspond to the vocabulary level A1 to C2+.
Using the free dictionary app is as intuitive as it is simple. Thanks to the multilingual app interface, it is accessible to a wide range of users. In the paid versions, which can be bought via in-app purchases, the app together with the created lists of favorites can be used on multiple devices (Dictionary Pro) and also offline with the full range of functions (Dictionary Pro Offline).
The Swiss knife among dictionaries
Netzverb's app is more than just a digital encyclopedia. With its language tools consisting of grammar, translation, thesaurus, meaning and usage, it combines 5 lexicons in one application. This density of functions makes the dictionary app a veritable compendium of language comprehension.
Meaning
Interpretive understanding supports the study of a language. The dictionary app by Netzverb provides one or more word meanings for each learning term, which give hints for its usage.
Usage
Correct language usage requires knowledge about the application of specific terms. For this purpose, the Netzverb dictionary app assigns exemplary sentences to each word.
Grammar
Immersive language learning is inherently linked to the correct usage of grammar. Netzverb's dictionary app shows how nouns, verbs, and adjectives are inflected.
Translation
The entrance to language comprehension starts with a translation. Therefore, Netzverb's dictionary app provides translations for the most important words in up to 34 languages.
Thesaurus
A broad vocabulary enables versatile expression. Hence, whenever available, the Netzverb dictionary app provides corresponding synonyms and antonyms of the given word listings.
Listening skills thanks to Audio Output
Correct pronunciation is especially crucial for understanding spoken language. Thanks to the audio output in the app, the appropriate acoustic impression is created.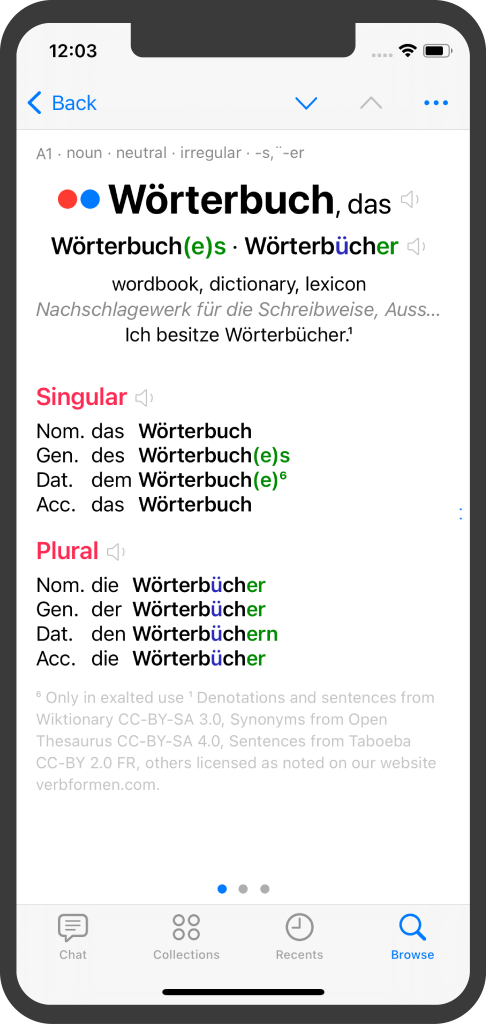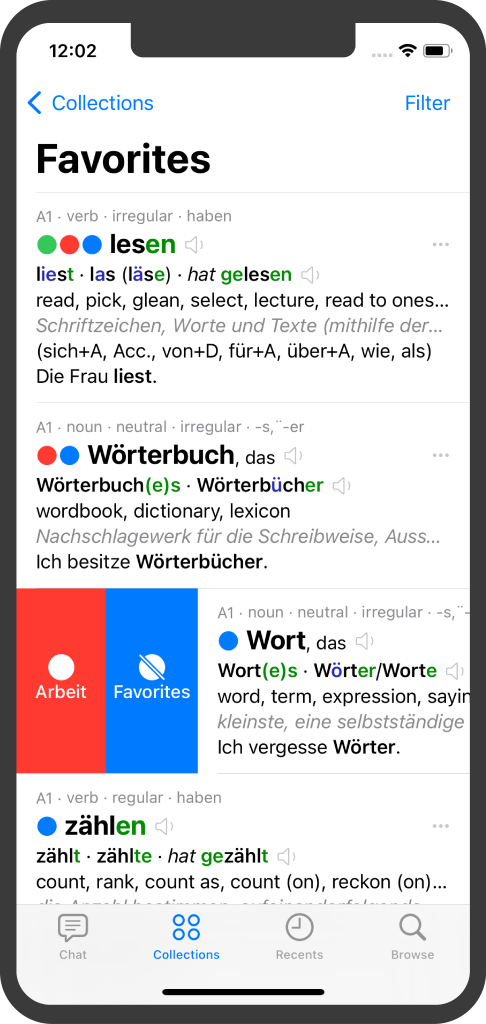 Save & manage Favorites
Being able to set individual emphases while learning German improves the learning experience. Thanks to the list of favorites, terms are easily saved and managed.
Quick results using Search Function
The basic function of a dictionary is that of a quick and easy search. By using the search function, terms can be found very quickly and easily.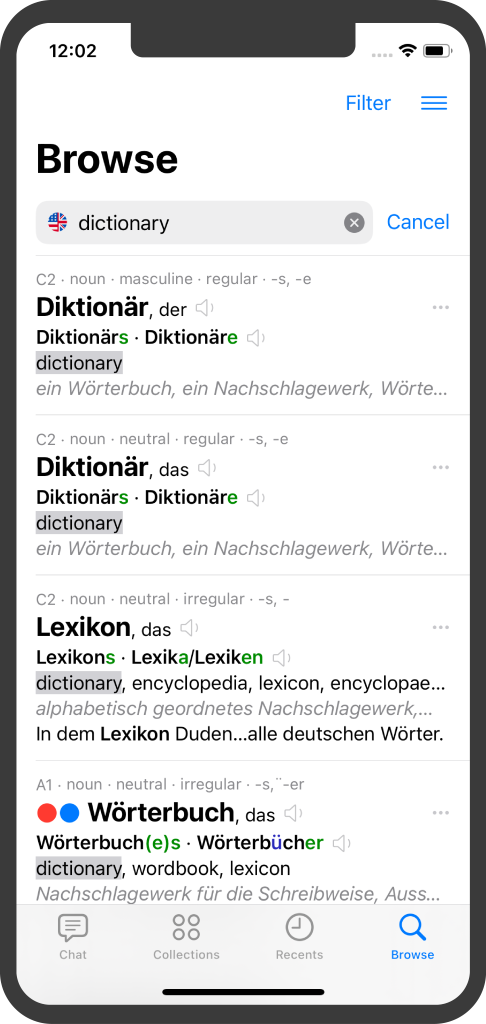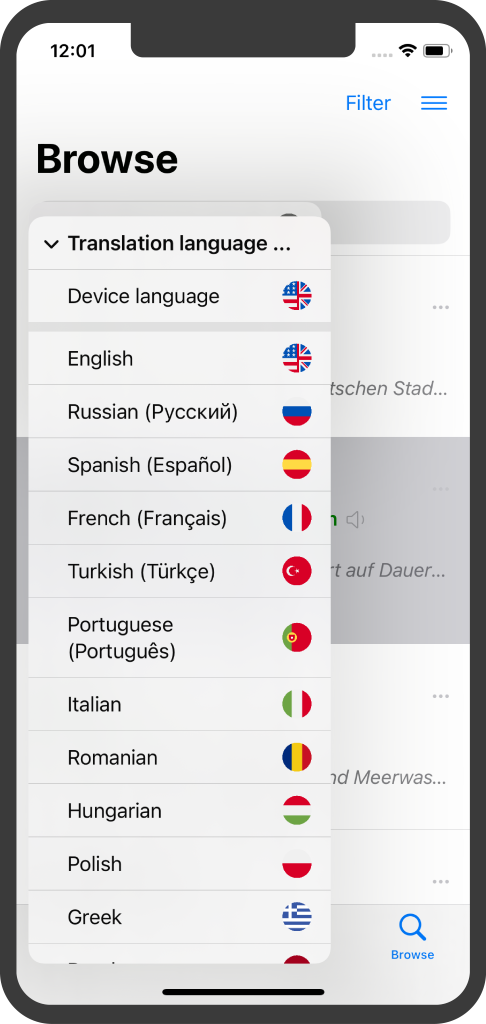 Extensive Language Selection
There are different reasons for wanting to learn German. To make the app accessible to as many people as possible, it offers an extensive language selection.
Precise answers in AI Chat
Cooperative learning facilitates language training. The AI chat enables language exchange and provides precise answers to specific questions within the language learning process.
Netzverb's dictionary app is available with all its main features as a free download for Android and iOS.
German Dictionary
main features
free of charge
German Dictionary Pro*
main features
+ no ads
+ no limits of use
2,99 € as an in-app purchase
German Dictionary Pro Offline*
main features
+ no ads
+ no limits of use
+ offline availability of the dictionary
9,99 € as an in-app purchase
Satisfaction within the community
Many people have already learned German or improved their language level using the dictionary app by Netzverb. A cross-section of the countless positive feedbacks shows what convinces users of the language-learning app in particular.
More about Netzverb
Netzverb is primarily the brainchild of software developer Andreas Göbel. The idea for the app was born out of the desire to initiate a German language network. The aspiration of a collection of all relevant information for learning, improving and generally dealing with the German language finally condensed within the dictionary app, which however offers much more than a simple dictionary. Further information on the background of and Netzverb Deutsch itself can be found on the website of the Netzwerk der deutschen Sprache.